Posted on November 10, 2022 @ 07:22:00 AM by Paul Meagher
I attended the Nova Scotia Music Week in Sydney, Nova Scotia last weekend. It consisted of live entertainment from numerous Nova Scotia musicians performing 30 minute sets in 6 different venues from Thursday evening to late Saturday evening. We experienced lot of great musical performances. They give out music awards in different categories on Sunday. A series of events we put on that are branded as Blueberry Jam won the "Live Sector" award for 2022 (award for event + venue). We were up against some larger and more well funded events so we were happy to win the award. The main team behind the events are Adele MacInnis-Meagher (left - wife, venue owner), Rankin MacInnis (center - organizer/promoter/merch/musician), and me, Paul Meagher (right - husband, venue owner).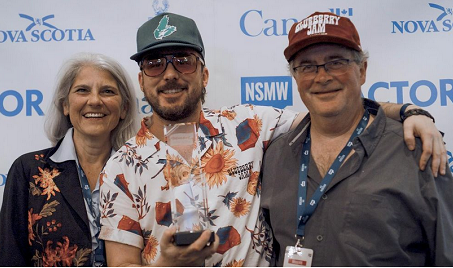 A couple of noteworthy winners were:
Dee Dee Austin: 16 year old indigenous singer who won 2 awards. This is one of her pop tunes. She also has a powerful song "Buried Truths" about residential schools.
The Town Heroes. The lead guitar player, Mike Ryan, and drummer, Bruce Gillis, who started the band hail from the same regional community as me and my spouse. They won two awards. We had the The Town Heroes perform a couple of times at our concerts. Small detail - the drummer is wearing a "Blueberry Jam" branded tank top in this video.
We hope to have these musicians, and many others, perform at Blueberry Jam 2023. To create a great event does not require that it be massive in size. I find myself needing to restrain the urge to grow too big, too fast and let things grow more incrementally. Adding another 250 people would be like adding the equivalent of the concert size in 2020 and 2021 when that was the covid limit of how many we could host. Possible that we might only add 250 more people to the size of our concert in 2023 even though the venue capacity could be significantly more (3000 versus 1000) if we wanted to push the envelope.