Posted on April 26, 2022 @ 09:53:00 AM by Paul Meagher
Currency conversion involves exchanging currency in one denomination (e.g., USD) for currency in another denomination (e.g., CAD). Today, if you wanted to exchange US dollars for Canadian dollars, 1 US dollar would yield 1 dollar and 28 cents in Canadian currency. The yield often varies in ways that exhibit a trend. Investors often look for opportunities to exchange currency when the exchange rate appears to be approaching a peak before it goes down again. Currency exchange platforms can be setup to notify you when a certain exchange rate is exceeded which might be your signal to buy the target currency.
The purpose of this blog is not to discuss foreign exchange (forex) trading but to use the idea of currency conversion as a way to think about capital conversion.
Capital Conversion, as I will use the term, refers to any conversion, or flow, between the 8 forms of capital discussed by Ethan Roland & Gregory Landua in their often cited essay 8 Forms of Capital (2011).
The 8 forms of capital they identified are: social, material, financial, living, intellectual, experiential, spiritual, cultural. The 8 forms of capital appear as 8 forms of currency shown in this essay diagram.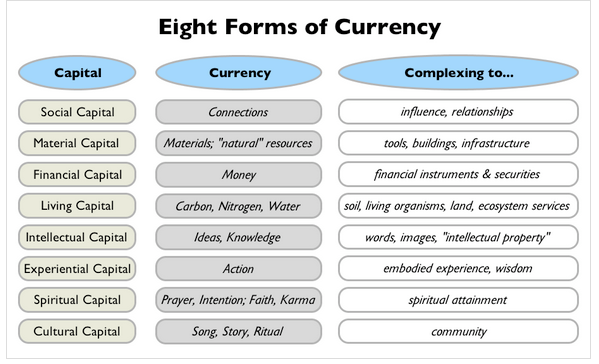 The importance of the concept of capital conversion arises because it can potentially be used as an explanatory framework for how a business might get off the ground and why certain businesses get funded.
A business might get off the ground by converting different forms of capital into financial capital. For example, a person that has an active and positive presence in a community might be able to convert social capital into financial capital if they started the right type of business in that community. The conversion rate may not be high resulting in rapid wealth, but it could be what gets you started and helps you to continue to grow financial capital and other forms of capital over time.
In terms of funding, a startup might be worth funding because they are a store of several different forms of capital (social, material, living, intellectual, experiential, spiritual, cultural) that can be converted to financial capital sufficient to generate a return for an investor.
The main takeaway of this blog might be the idea that starting and funding a business can be understood as a capital conversion process between the multiple forms of capital.
Curtis Stone has a nice video in which he discusses these different forms of capital.